The Market Beet
Chattanooga Market
Open Sundays 11am-4pm
First Horizon Pavilion
Holiday, 2021
Hello Market Friends! We're in the throws of making our Holiday Market final plans…But, let's not get ahead of ourselves. We still have three more Market Sundays outside at the First Horizon Pavilion. November 21st will be the last outdoor Market of the season, and it's one you won't want to miss. Think about all of the fresh produce, breads, desserts and even fresh cranberry sauce you will want for your Thanksgiving table!
From there, we'll be moving all of our elves to the Chattanooga Convention Center. We'll be holding the Chattanooga Holiday Market both Saturdays and Sundays until December 19—plenty of time for you to enjoy shopping local for your gift giving again this year. Admission to our Holiday Market is free and parking is easy at the Convention Center. Enjoy festive live music each weekend, hot chocolate (or a hot toddy), and lunch too while you shop.
We'll also hold our annual Lodge Cast Iron Bake off at the Holiday Market on Sunday, December 5th. Come see as some of Chattanooga's best chefs compete live throughout the day making an entire meal for our judges using Lodge's line of bakeware products.
We can't wait to have a toast with you this season as we celebrate another harvest year ending and look forward to 2022!
Cheers!
Chris & Melissa
This Sunday, in honor of  Veterans Day, Market patrons can be a part of the annual quilt presentation by the Quilts of Valor Foundation and QOV Belles at 1:30pm, November 7th.  These quilts are awarded to Service Members and Veterans touched by war in an effort to "blanket" them with comfort, and give hope for healing. The quilt unequivocally says, "Thank you for your service and sacrifice in serving our nation."  Please join us as we thank three very special  veterans this Sunday, at Chattanooga Market. And don't miss Chattanooga's own, Sweet Georgia Sound, with performances throughout the day!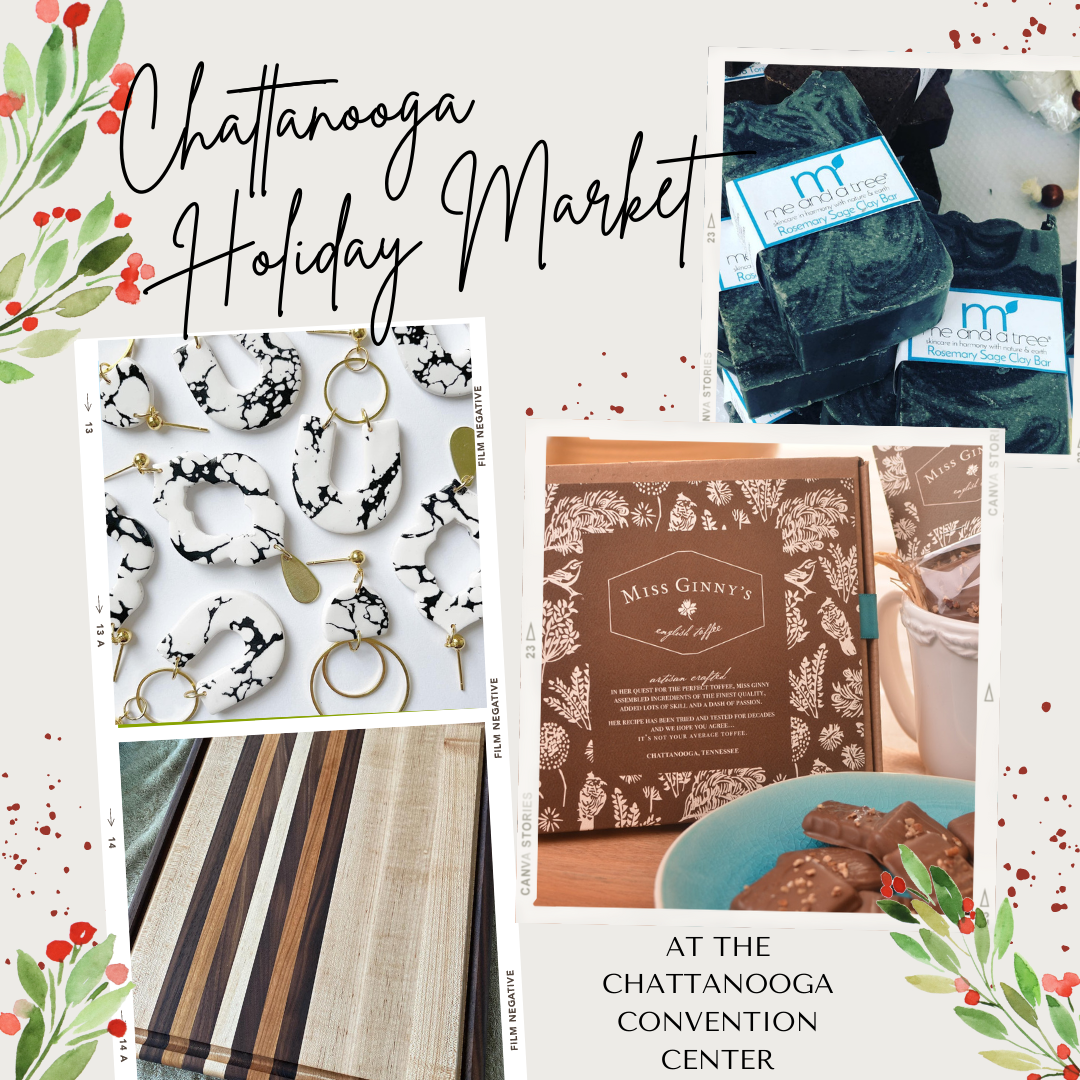 Every December, at the Chattanooga Convention Center, we host nearly 200 vendors selling handicrafts, artisan foods, fine art, holiday decorations with every gift to fill your list. Come shop local the first three Saturdays and Sundays of December. Saturdays are 10am-5pm, Sundays are 11am-5pm.
Admission is FREE and plenty of parking is available in the adjacent parking garage to the Chattanooga Convention Center. ABOVE: Chattanooga Clay Company, CW Woodworking, Me and a Tree, Miss Ginny's Toffee